Why Use Chubbs Pet Shampoo
Benefits of Chubbs Bars:
Organic, with all Natural Ingredients.
SHOW COAT quality finish, with no separation!
Green. Very little packaging. No bottles to dispose of.
Economical. More cost efficient than liquid shampoo.
Hypo-Allergenic. Great for all skin and coat types.
Safe for cats and dogs over 12 weeks of age.
Long lasting seasonal and year round scents!
One bar should lather a small sized pet 20 times.
Discounted pricing for Groomers and Retailers.
Space saving. No bottles to take up valuable space in the tub, salon, mobile unit, or house call set up.
All in one Shampoo! Brightening, whitening, degreasing, hypo-allergenic, volumizing, and conditioning.
Instant rich and creamy lather, very gentle on your hands.
VEGAN! Contains no animal products or byproducts.
Safe Ingredients. No d'limonene, essential oils, sulfates, formaldehyde, or detergents.
Easy to pack. Space saving. Airline friendly.
Cost effective. The average cost to bathe a cat is $.68 cents compared to over $1.70 per cat when compared to liquid shampoo.
NO SPILLS! NO DILLUTING! NO WASTED LIQUID DOWN THE DRAIN!
Note: Even though these organic shampoo bars are made with all natural and mostly organic ingredients, avoid contact with eyes as this is not a "tearless" shampoo.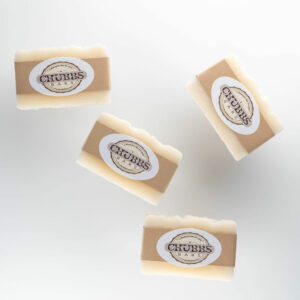 An ingredient list for Chubbs Bars is not posted. The best way to protect our investment is for us to do our due diligence to be sure our products won't harm the very creatures we seek to help. So feel free to use Chubbs Bars for your pet's shampoo needs, and feel secure knowing that they are free of sulfates, essential oils, d'limonene, formaldehyde, or other harmful ingredients.