An explanation of how Chubbs Retail Packs are the very best at making you money, or saving you money – and you don't even need to be a retailer! In this post we highlight a local retailer, Sugar Tit Moonshine & Distillery. A very dog friendly business, many visitors bring their dogs to socialize with the famous 'Distillery Dogs!'
I'll let you guys in on a little secret.
Did you know that anyone can purchase a Chubbs Bars Retail Pack? It's true. You don't HAVE to be a shop owner or business owner, to get our very lowest pricing on these fantastic pet shampoo bars. Our bars normally retail at $10.97 a bar. But you certainly don't have to pay that much. Did you know you could be getting this amazing product at only $4.75 a bar? I'll tell you how!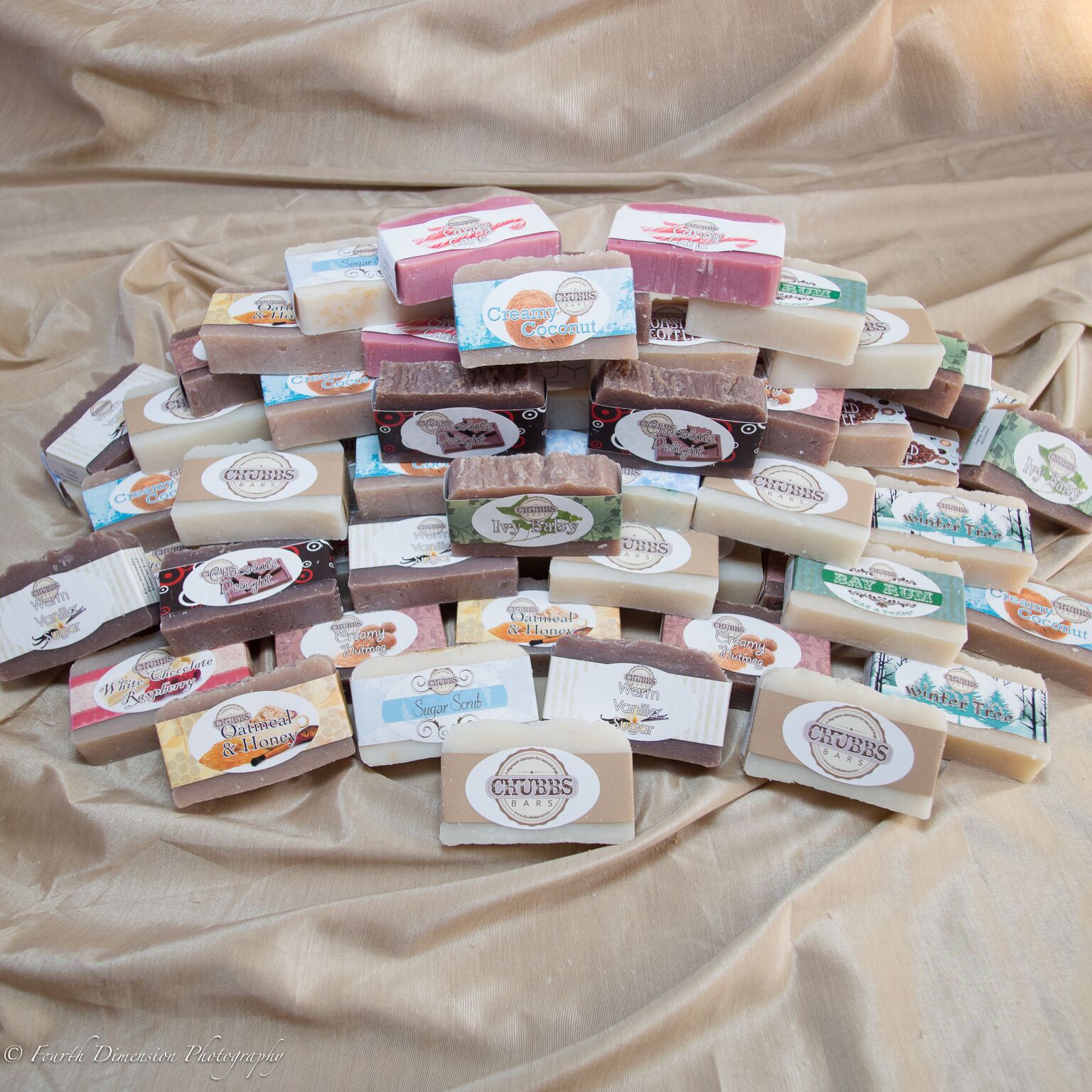 Our Retail Pack includes 80 individually wrapped Chubbs Bars for $380. 
Check it out here!
 This breaks down to $4.75 a bar, which is the very lowest cost you can get per bar! You can choose which scents, and even how many of each that you would like included in your pack. Want a variety of everything we have in stock? No problem. Only like a couple of specific scents? You got it. These bars are all individually wrapped with bar codes, so they are immediately ready for your shelves. Not interested in selling them? No worries! Stock up on your favorite scents for your grooming business, and enjoy the satisfaction of knowing that you saved a ton of money by buying in bulk. The very best part? This package ships to you free.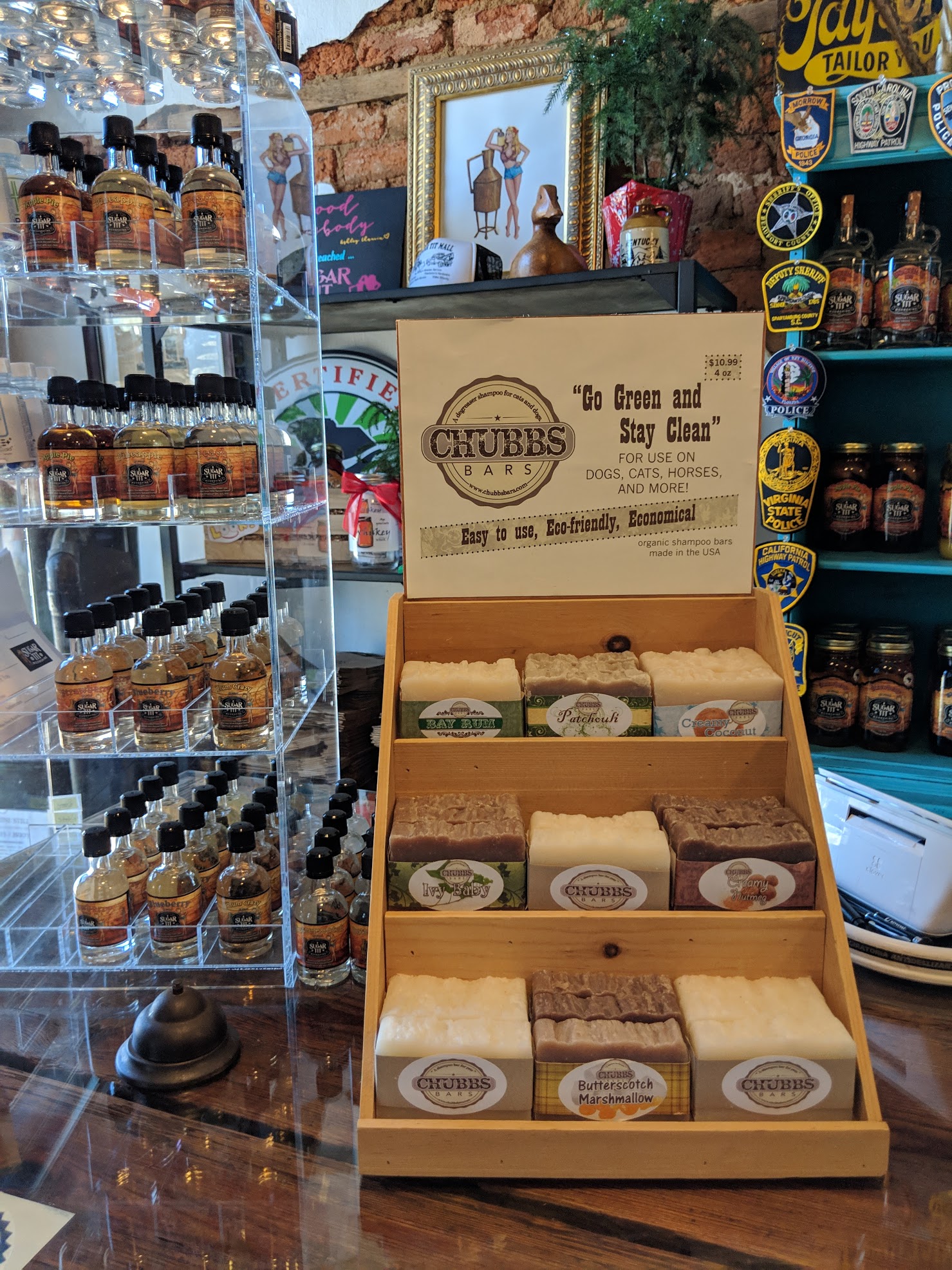 Want to make a profit? You already love Chubbs Bars, and how amazing they smell and how wonderful they work. Why not make some easy money off a product you already support and love? You don't HAVE to be a retailer to enjoy this benefit. Are you a groomer, that also has some shelf space? Or maybe you want to just offer them for sale to your clients on the side? Easy. You've already shown your clients the 'WOW' factor that these shampoo bars can bring. Help them out, by offering them the same professional product that you use to send their pets home looking fabulous. With your cost at $4.75 a bar, you can easily sell these bars at a suggested price of $10 each. That's $5.25 right into your pocket! If you sold all 80 bars, that's a net profit of $420! Use some bars for your grooming business, display some bars on your shelves, and reap the benefits of our lowest available bulk pricing. On top of all of this, your clients are bringing their pets back to you with healthier and more manageable coats, because they are bathing in between grooms with Chubbs Bars. Making your job EASIER!
It's especially beneficial, if your client owns two extra large Goldendoodles…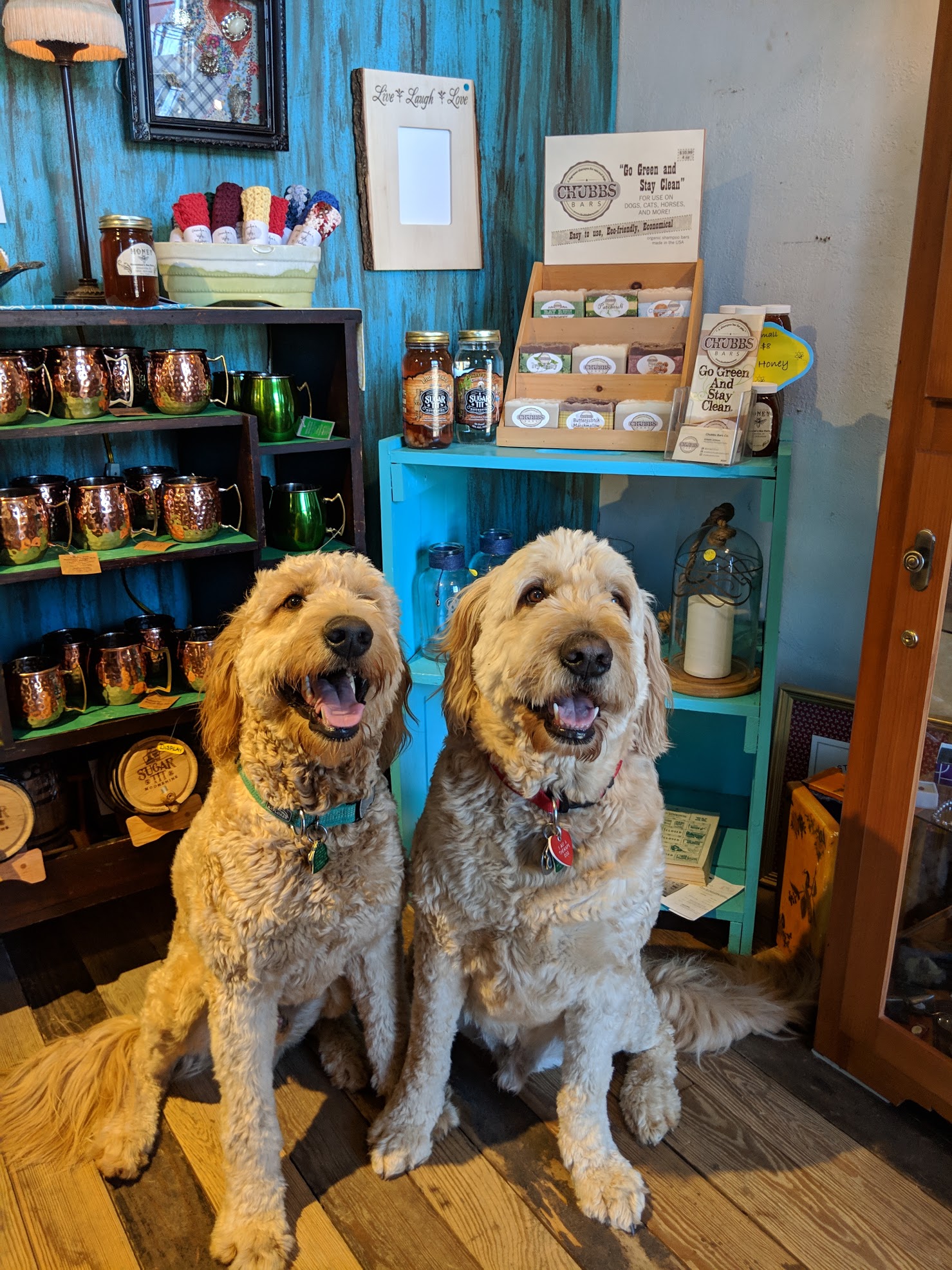 Today we visited a local retailer, with a very unique name! 
Sugar Tit Moonshine & Distillery
 is known for their Award Winning Moonshine, rustic historic building, and for their energetic 'Distillery' Dogs! The owners Bob and Kat Jordan have put a lot of sweat and tears into the restoration of this very old building, and have made it into the beautiful rustic distillery it is today. They are located in the small town of Reidville, just outside of the city of Greenville South Carolina. So you might ask: Why Chubbs Bars and Moonshine? There's a funny story behind that.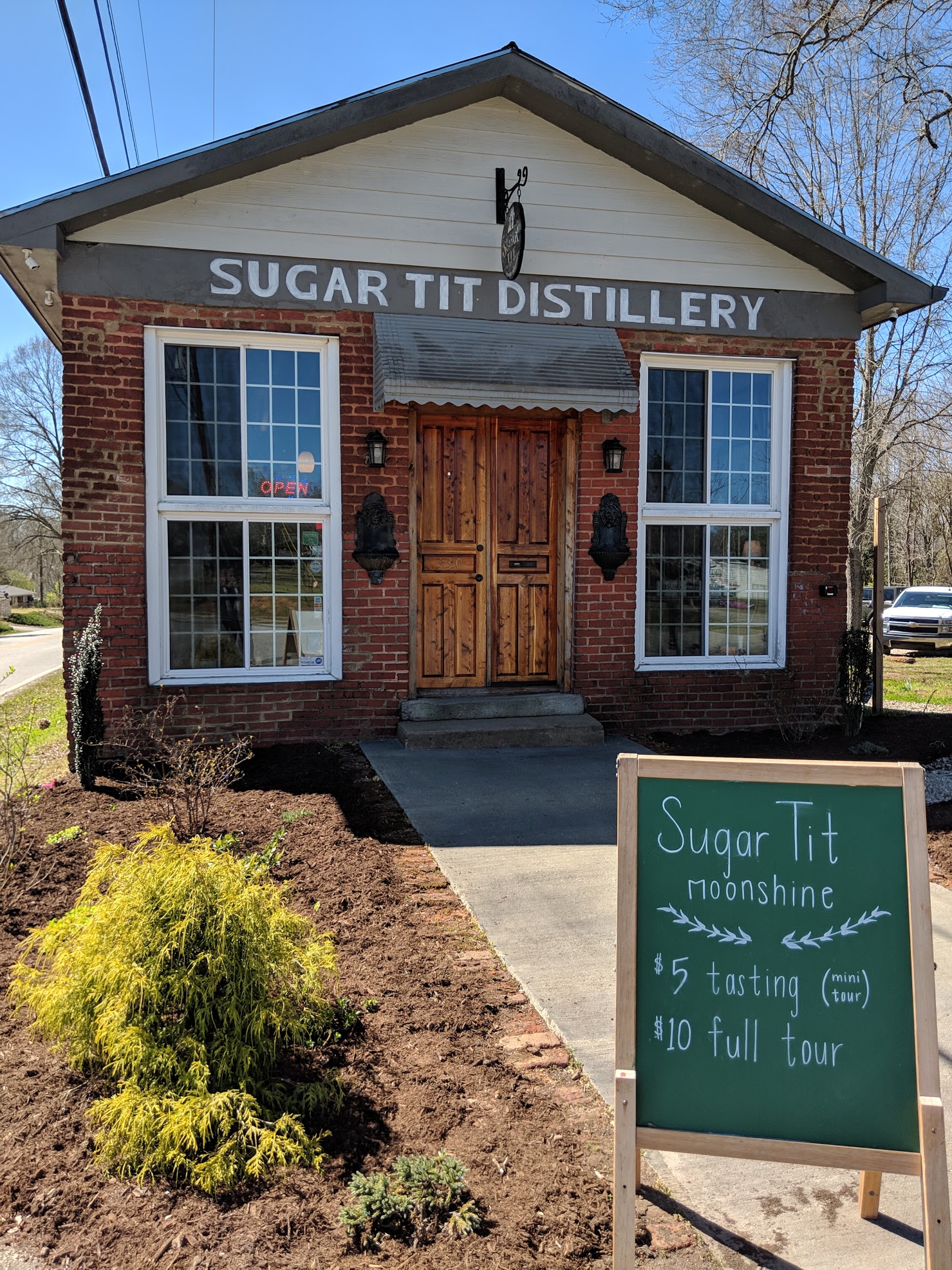 The owners Bob and Kat have three dogs, two of which are very large Goldendoodles. "Whiskey" is the older 'dood, and the original Distillery Dog. Whiskey is known as a gentle giant, and he is actually a certified therapy dog. Many love to come in to the distillery just to meet him, and to try out his famous namesake moonshine, "Whiskey Boy." He has gone through extensive training to bring comfort to children, and to the elderly all around Greenville. "Doc" is the younger 'dood and has quite an energetic, and mischievous personality! Doc was the first Distillery Dog to get a Chubbs Bar bath, and it was completely unintentional.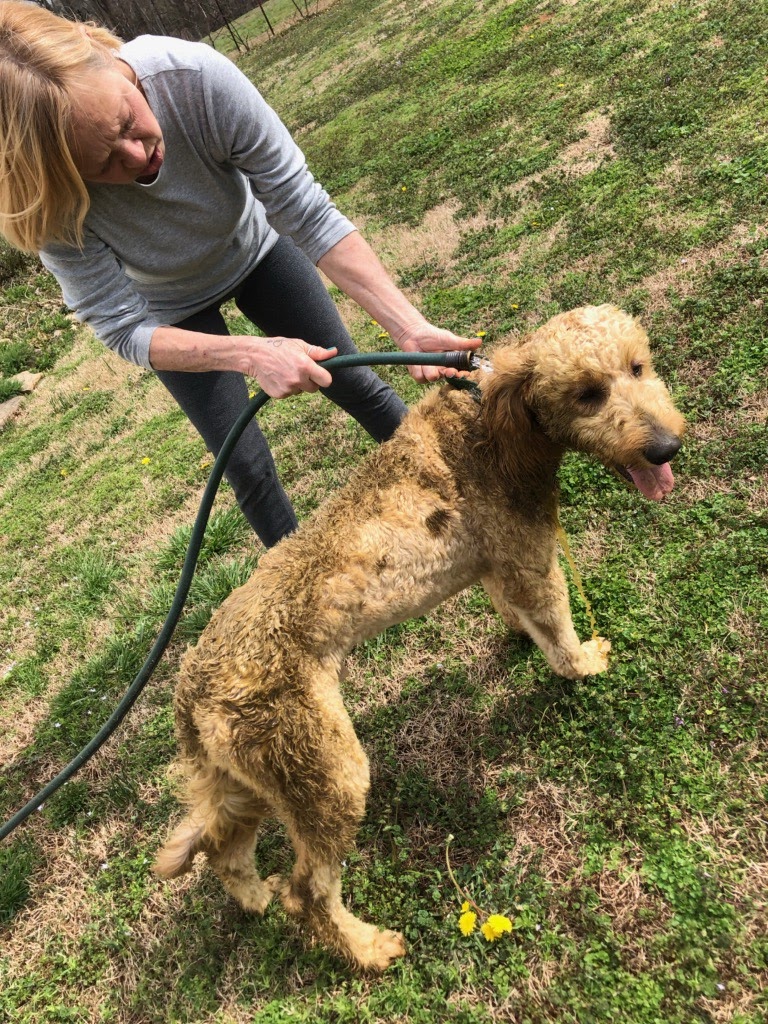 While visiting a friends farm down the road, Doc decided it would be fun to go out into the horse pasture and roll in some manure. When Kat came to pick him up, there was no way she was getting him in her car all dirty and smelly! Luckily, the owners of the farm had a 'Bay Rum' Chubbs Bar on hand. They own a beautiful red Golden Retriever, named Ruby. Ruby was kind enough to share her Chubbs Bar with Doc, so he could get "squeaky" clean to go home! When Kat hosed him down and started to lather him up, she couldn't believe how easily he came clean, and how wonderful he smelled! The transformation was enough to get her immediately hooked.
A 'cleaner' Doc pictured below lounging happily in the tasting room, with their other little dog "Ollie."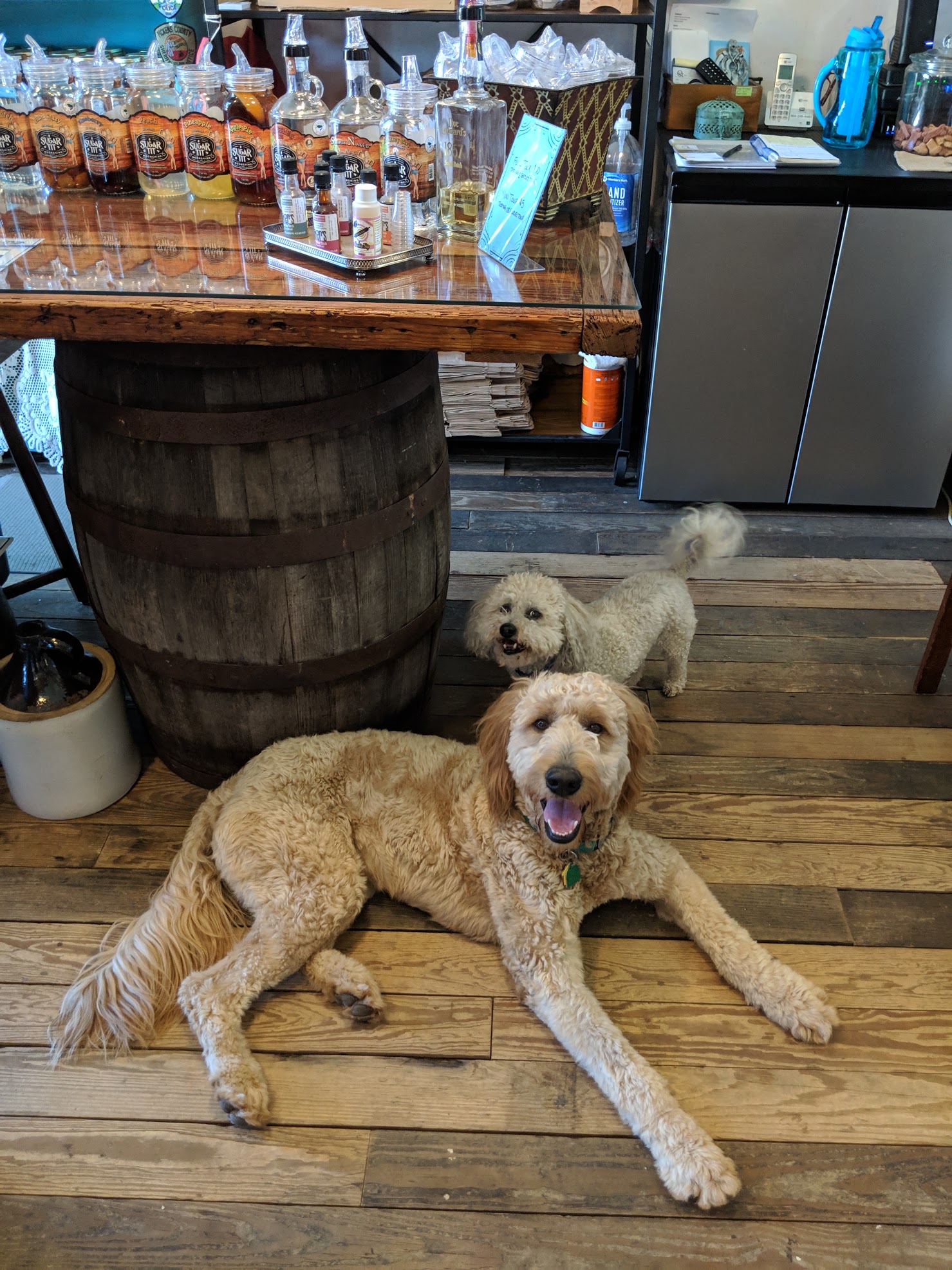 The Jordans were so happy that they found Chubbs Bars for their personal dogs, especially since Whiskey is a therapy dog. Since he goes inside a lot of establishments and has contact with the young and elderly, it's very imperative that he smells clean and is well groomed. Kat has become a great Chubber and supporter, and immediately wanted to share them with their kennel, trainers, and especially their groomer! Now that they are a proud retailer of Chubbs Bars, they can now share them with everyone that comes into their distillery! Since the business is dog friendly, people love to bring their pups to meet the famous Distillery Dogs and have a romp around the tasting room. They even have a fenced in back yard area where the dogs can play, while you take an exciting distillery tour, and taste some of their award winning Apple Pie Moonshine. If you are local to Greenville South Carolina, you need to stop by for a visit. Taste some of the sweetest 'shine in the south, and grab a couple Chubbs Bars for your pups at home!
If you're lucky, you'll find a Distillery Dog or two, happily greeting you in the tasting room 🙂 Check out our visit to Sugar Tit Distillery below!
Are you a fun establishment looking to add some unique and organic dog friendly products? Questions about becoming a retailer? Simply comment below, or email us at Kristin@chubbsbars.com